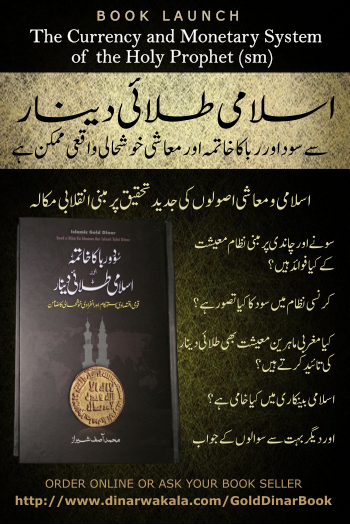 FREE BOOK PREVIEW
Read the Introduction and table of contents on google drive



BUY NOW
Domestic Orer via Cash-On-Delivery Mail Option, or UPaisa Instant Payment.






International Order via Paypal: $7 + Shipping

Book : Islami Talai Dinar - اسلامی طلائی دینار
Islami Talai Dinar is the first Urdu language book to comprehensively discuss the subject of Islamic Finance and Economics from the perspective of the Gold Dinar Movement.

Prolonged colonial rule over the Muslim countries left the newly independent nation states with no other option but to adopt the Western financial system in toto, which was based in whole on usury and interest. Subsequent attempts under the Islamic Banking initiatives either completely missed, or failed to fully appreciate the fundamental truth, that a system founded on usury cannot be patchworked to conform with Shariah. This fact is now self-evident by the failure of Islamic Banking to either win the hearts and minds of the people (including some eminent scholars) and by its failure to make any positive economic impact in the soceity.

It is a little known fact, however, overshadwed by the marketing budgets and fanfare of Islamic Banks, that genuine Islamic scholars have always been opposed to western financial systems (Islamic Banks inclusive), and proposals for currency reform started appearing as early as the 1970s in parallel with the genesis of Islamic Banking.

This book, for the first time, introduces the Pakistani public to three important subjects:

a) Flaws in Islamic Banking: A comprehensive discussion of the flaws in contemporary Islamic Banking. Unlike other literature on the subject, we do not dwell exclusively on the flaws in their contractual models and financing principles, but took a more holistic look at the underlying monetary system in which such Islamic Banks exist, and how this whole system is flawed, right from the State Bank to the Government Treasury operations.

b) Gold Dinar Alternative: For the first time, instead of mere criticism, we explain the Islamic solution, comprising of sound money, traditionally based on the Nabawi (sm) Gold Dinar and Silver Dirham, the historical Shariah based currencly of the Muslims.

c) Implementation Proposals: We finish the book off with individual as well as collective measures that we can take to revive the Islamic Financial System based on the Gold Dinar and Silver Dirham in Pakistan.

You are all strongly encouraged to support this initiative by
i. Purchasing this book and
ii. Sharing its information with your friends and acquintances

We also welcome any feedback, which you can provide on our facebook group, or individually to the author at asif@dinarwakala.com

You can read a few preview chapters of the book here at google drive.